It is advisable for some one who wants to lose weight to watch the Common ingredients used in 
recipes.
To lose weight It is good to have a proper meal plan that goes in line with
weight loss
or else obesity will inevitably stand in the way of weight loss.Some recipes i have seen and heard of includes the ones i will be talking about here.
Some people actually feel that sticking to a healthy lifestyle is hard and just takes up so much time. It's actually easier than we might think to eat real food, enjoy what we're eating, and even be FULL, all while losing weight.Yes, it's possible to 
eat healthy and not hate your food!
Changing your eating habits can be intimidating, I know. It may even feel like you're leaving everything you love behind. All the midnight snacks, takeouts, sweets…  But, although it may seem like that at first, soon enough you realize that eating healthy will not only make you feel and look good but can also taste darn good!  The key is finding a lifestyle you love (not one you dread) so that you stick to it.
Once you get a hang of it, making healthier and yet equally, if not even tastier, versions of your favorite dishes will bring you more joy than any unhealthy over-processed options out there. I've even made a healthier version of one of my all-time favorites – Mac and cheese, and it's one of my favorite recipes ever.
With our busy schedules, it's often hard, impossible even, to cook every single day and, to be honest, sometimes even when you do have the time, you'd rather be spending it doing something else. That's why it's so often good to rely on meal prep!
Not only is meal prep a great way to save time, as you cook only once or twice a week and have a nutritious meal ready in a matter of minutes every day, but by planning ahead you can keep track of your calorie intake more easily.  The idea is to plan to succeed, not wait to fail with eating healthy and, ultimately, with weight loss in general.
In order to help you jump on the meal prep train, I'm sharing with you some of the favorite tips that will help you get started and a full 7 days meal prep for weight loss.  This 7 day meal prep for weight loss includes 4 easy meal prep meals per day, including breakfast, lunch, dinner and a snack to munch on in between and totals to 1500 calories per day.
Ready, set, go!  You got this!
MEANING OF MEAL PREP??
Meal prep, short for meal preparation, is the process of planning and preparing your meals ahead of time. You can meal prep one day ahead, or take one day to prepare lunch and/or dinner for an entire week. While most meal prep only one or two meals, you can easily meal prep breakfast, lunch and dinner, even snacks for the week ahead. It's entirely up to you!
In this post today, I've shared a 7 day meal prep for weight loss that includes all your meals and snacks to make it as easy as possible to stay on track.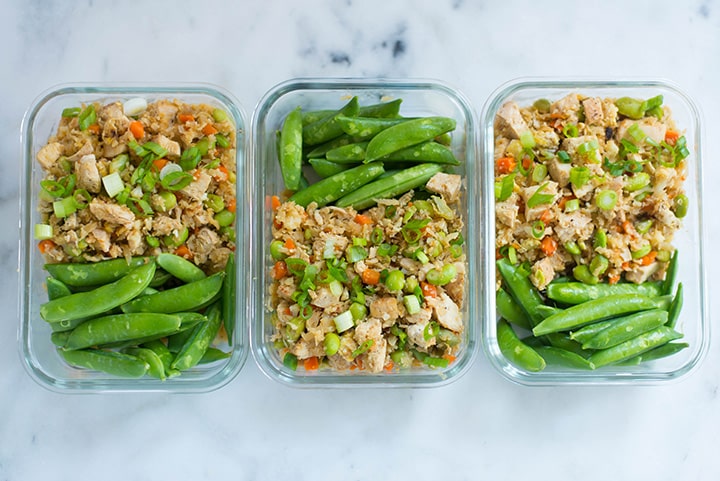 MAKING A MEAL PLAN?
Its very easy,first things first – planning. Before you start to prep your meals, you need a nice, solid plan. Coming up with a meal plan may sound overwhelming at first, but it's not as bad as it may seem. Just take it one step at a time and start with one, simple meal you love and that you know is healthy, and then work your way up. 
MAKING A MEAL PLAN
Write down all the meals you plan on having in the next few days, including breakfast, lunch, snacks, and dinner. Stick to proven recipes and meals you can easily make even in your sleep, to start. No need to try to learn how to cook something when you're wanting to be as efficient and quick as possible.
List out all the ingredients you'll need to make them and how much of each you'll need.
Time to go grocery shopping!
Set aside one or two days to get all your meal prep done – try to keep it to 1 hour or less for each cooking session so you don't hate these days of actually cooking your meal prep recipes.
That's it, you're set.
Meal prep is one of the best ways to ensure you're eating healthy all day long and prevent the vicious cycle of skipping meals during the day and binging on unhealthy foods once you're finally home in the evening, one of the problems many people who are struggling with losing weight are facing with every day.  Plus, it's so much easier to grab and eat food you've already prepared than to struggle with also cooking and/or prepping it when you're hungry.
You can easily lose weight with meal prep because Meal prep is a simple and easy way to track your food intake. Whether you just want to stay away from over-processed foods and eat healthy to build muscle, lose weight, or simply feel better, meal prep is a great idea. Prepping all, or at least most your meals, ahead of time makes cooking and eating healthy, nutritious food easier and quicker than ordering take out or grabbing some fast food on the go.
NOT ABOUT HOW MANY TIMES YOU EAT A DAY
There's no hard rule on how many times a day you should eat in order to lose weight. But, when it comes to weight loss, the first change you need to be making is your eating habits. They don't say that abs are made in the kitchen for nothing!
If you want to lose weight and feel better, you need to eat nutritious food that will keep you full for longer. Protein and fiber take longer to digest and therefore keep you feeling full for longer than simple carbohydrates and sugars. Whether you eat three bigger meals or five or six smaller ones throughout the day is entirely up to you, as long as you keep in mind the number of calories you consume.  Typically, a woman should eat approximately 1400-1700 calories each day to lose weight, depending on their specific bodies and nutritional needs.
MEAL PREP CONTAINERS?
When meal prepping, you definitely want a meal prep container that will keep your food fresh. Whether you're prepping meals for an entire week or just a few days ahead, the way you store your meals is just as important as cooking the food. You want to make sure you always store your food in airtight containers to prevent spoilage.
Food containers come in all shapes, sizes and equally important – materials. Depending on your lifestyle, you can pick the ones that fit into your lifestyle (and your bag!) best. If you'll be taking a lot of your meals with you on the go, the slimmer and lighter the container is, the better. Also, make sure the container is suitable for keeping in the freezer and/or microwave use, depending on what you'll be using it most – that's why I love these glass meal prep containers. There are plenty of options and after you've done your planning, it will be much easier for you to determine what kind of container is the best option.
 MEAL PREP IN THE FRIDGE
To make sure your veggies stay fresh in the fridge up to twice as long, a great tip is to soak them in ice cold water for 15 minutes and them store them in the fridge with a wet cloth or a damp paper towel.
Once you're done with your meal prep, make sure you let your meals cool down before transferring them to airtight containers and storing them in the fridge, but make sure you don't keep your food in room temperature for more than two hours. If you are using meal prep containers and have stored your cooked meal prep well, it can last in the fridge for up to 7 days.  Some foods will keep longer than others, which is something to consider when prepping 7 days at a time.
If you prep your meals twice a week, that will help keep your food as fresh as possible.
FREEZING MEAL PREP FOOD?
Freezer meals are a great option, especially when you have extra food you know you won't get to in time before it spoils. Before you freeze any cooked food, make sure to let it cool down completely. You may need to transfer your meal to a larger bowl and place in the refrigerator to cool.
For easy thawing and storage, freeze your meal prep either in airtight freezer-safe containers or freezer bags. If using a freezer bag, make sure to squeeze out as much air as possible before placing your meal prep in the freezer.
When you're ready to eat it, you can either let your meal prep thaw overnight in the fridge and then reheat in the microwave for around 2 minutes or reheat it in the microwave while frozen for 4-5 minutes. Easy peasy!
 WEIGHT LOSS HEALTHY MEAL PREP
check out these other great meal plans to help you to keep eating healthy!
The idea of this meal plan is for you to focus on enjoying your food and having meals prepped for you that you know are well-balanced so you don't have to worry about counting calories.
 every person is different and requires slightly different calorie intakes to lose weight at a healthy rate.  If you're combining this with a workout routine, you can increase the amount of calories easily by adding in another 200 calorie snack to find what best suits you and your needs.
<!– Global site tag (gtag.js) – Google Analytics –> <script async src="https://www.googletagmanager.com/gtag/js?id=UA-134599736-1″></script> <script> window.dataLayer = window.dataLayer || []; function gtag(){dataLayer.push(arguments);} gtag('js', new Date()); gtag('config', 'UA-134599736-1'); </script>